Her music touched a generation. As a ten year old in 1964, I was just beginning to understand what was to become my lifelong passion for music. I was enamored of Elvis Presley, The Beatles, and Lesley Gore, and then my best friend Ellen invited me upstairs to her dad's studio and introduced me to Peter, Paul and Mary. Not in person of course (that wouldn't happen for many years) but to an album of theirs - "Peter, Paul and Mary" - released just two years prior.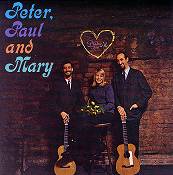 The war in Vietnam wasn't a concern of mine, but I had a beloved cousin who was in the Army; there was talk of whether he would go to war. John F. Kennedy had been assassinated only a year before and he had young children and a handsome smile. He had a passion that was contagious and I could relate to him. Civil rights was a term that I only new as segregation, and I couldn't understand it. My best summertime friend, Terry, was black. She lived close to my grandmother's in West Virginia and I carried her school picture in my wallet. In Junior High, when I was suddenly in an integrated school, I fared much better than some of my friends who had been so unfortunate as to have only experienced friends with the same color skin as they. I thought them very unfortunate to have had such a narrow existence.
Mary Travers sang of love, she sang of fairy tales, she sang of lemon trees and cruel wars and I sang right along with her. I learned to strum a guitar from Sears and Roebuck and I bought a Peter, Paul and Mary songbook. I was in heaven - now I could really play along with her!
Her songs brought me to tears because I understood what was in between the lines. I
got
it. Not everyone did.
Fast forward forty years.
I'm a professional musician -singer, director, teacher, and now editor- and Peter Yarrow was one of my husband's clients. I met him on several occasions, but then came the night in 2004 when we went backstage to meet Paul Stookey and Mary Travers. I was able to clown with Peter for a photograph and tell Paul how much "The Wedding Song" had meant to me in all the years I'd been singing it, but Mary? Mary was a presence that was almost unapproachable. I knew she was ill, she was in the early stages of leukemia and didn't hang around long for autographs or kind words, but I shared the air in a room with her for a brief moment. I listened as she spoke with others who had gathered and it was enough.
Her death has touched me more than any of the other deaths of celebrities this summer. I admired the others, I enjoyed their work, and maybe even gushed a little when some of them were on screen, but Mary?
Mary touched my life. She touched my heart.
Mary Allin Travers (November 9, 1936 – September 16, 2009)
Peter, Paul and Mary's first album is bright with enthusiasm. No gimmicks. There is just something GOOD about it all. Good in the sense of Virtue, that is. And the news that something this GOOD can be as popular as this is can fill you with a new kind of optimism. Maybe everything's going to be all right. Maybe mediocrity has had it. Maybe hysteria is on the way out. One thing for sure in any case: Honesty is back. Tell your neighbor.
-- from the liner notes for Peter, Paul and Mary, released in 1962